Pediatric Urology
Location Hours:
Monday - Friday | 8:00 a.m. - 4:30 p.m.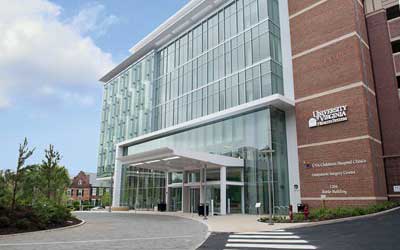 Parking: Free for patients and visitors.
Park in the 11th Street Garage.
Enter the Battle Building on Level C.
Overview
The pediatric urology clinic treats children from infancy through age 18 with a wide range of urological conditions, including:
Hypospadias and congenital urethral anomalies
Undescended testis
Hydroceles/hernias
Cloacal/urogenital sinus malformation
Cloacal exstrophy
Kidney stones
Kidney and ureter obstruction
Our services include:
A prenatal hydronephrosis clinic that meets monthly
Robotic and laparoscopic surgery
Help for kids with elimination problems, including bedwetting, urinary tract infections and constipation
Circumcision/revision
Bladder exstrophy/epispadias repair
Bladder augmentation and surgeries for continent reconstruction
Complete or partial kidney removal
Ureteral surgery for bladder reflux
Bladder and bowel repair and reconstruction
Learn more about pediatric urology services.
Specialty Clinics
Prenatal Hydronephrosis Clinic
The clinic holds hours the first Wednesday of every month. Call for more information.
We are a recognized leader in providing a multidisciplinary approach to educating mothers with babies that have kidney dilation detected prenatally. Our team includes both a maternal fetal medicine specialist (obstetrician) and a pediatric urologist. The division of pediatric urology currently maintains a national database for babies with prenatal hydronephrosis. This clinic meets once a month.
Neurogenic Clinic
Dr. Herndon holds clinic hours the third Wednesday of every month. Dr. Corbett holds clinic hours the first Tuesday of every month. Call for hours.
Neurogenic bladder is a dysfunction of the bladder in which the nerves that are supposed to carry messages from the bladder to the brain do not work properly, causing difficulty or inability to urinate without use of a catheter or other method. This type of bladder dysfunction, which may cause urine leakage, inability to urinate and infection of the bladder or ureters, often is caused by diseases of the central nervous system, such as spina bifida, as well as spinal cord injury.
Voiding Dysfunction Clinic
Schedule changes weekly, call for hours.
Though potty training begins in the toddler years, some children continue to have problems with elimination for years. Poor elimination habits or dysfunctional elimination syndrome can be learned during the potty training years that cause problems later on, or a medical condition could be the underlying cause. We offer a thorough evaluation that first emphasizes ruling out significant kidney or bladder problems.
We also offer services for children and adolescents who have problems with bowel and bladder function, including:
Daytime or nighttime wetting
Dysfunctional elimination syndrome
Urinary tract infections
Urinating too frequently or not enough
Constipation
Failure to potty train
In cases where a learned behavior is causing the problem, we teach children strategies to change their elimination habits. We use fun exercises to educate children and adolescents about proper bathroom habits, such as how often to go, learning not to rush the process and drinking appropriate amounts of water each day.